Community Noise – Helping Clients Navigate a Confusing and Often Contentious Compliance Scenario
Insight IH Consulting has conducted many Community Noise assessments for a number of manufacturers. Often these assessments arise out of noise complaints filed by residential neighbors, and enforced by municipal workers that often have very little knowledge of how to correctly measure noise. Consider the following scenario. A police officer responds to a complaint and measures noise in dBA with an un-calibrated $50 meter purchased online. The officer then files a complaint referencing a developed octave standard. The initial measurements are wrong and indefensible. You need someone that can interpret the ordinance and respond appropriately. We understand these ordinances, and can deploy defensible practices that effectively evaluate noise with regards to the regulation.
Background
Noise is frequently described as 'unwanted sound'. Environmental noise is generally present in some form in all areas of human, animal, or environmental activity. Complaints often arise from transport, industrial, and recreational activities, particularly during evening hours. The effects in humans of exposure to environmental noise may vary from emotional to physiological and psychological.
Noise at low levels is not necessarily harmful, however. Environmental noise can also convey a sense of liveliness in an area, and thus is not always considered 'unwanted'. However, the adverse effects of noise pollution could include: interference with speech or other 'desired' sounds, annoyance, sleep disturbance, anxiety, hearing damage and stress-related cardiovascular health problems.
As a result, many governments and institutions regulate environmental noise through a noise ordinance.  Depending on the type of ordinance in place, a pattern-approved sound level meter measuring noise in decibels (dB) is the best choice (see below for a City of Waukesha Noise Ordinance excerpt).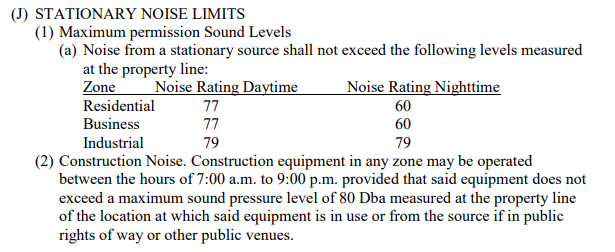 Certain ordinances may express the maximum permissible sound pressure in octaves. See below for an excerpt from the City of Green Bay Noise Ordinance.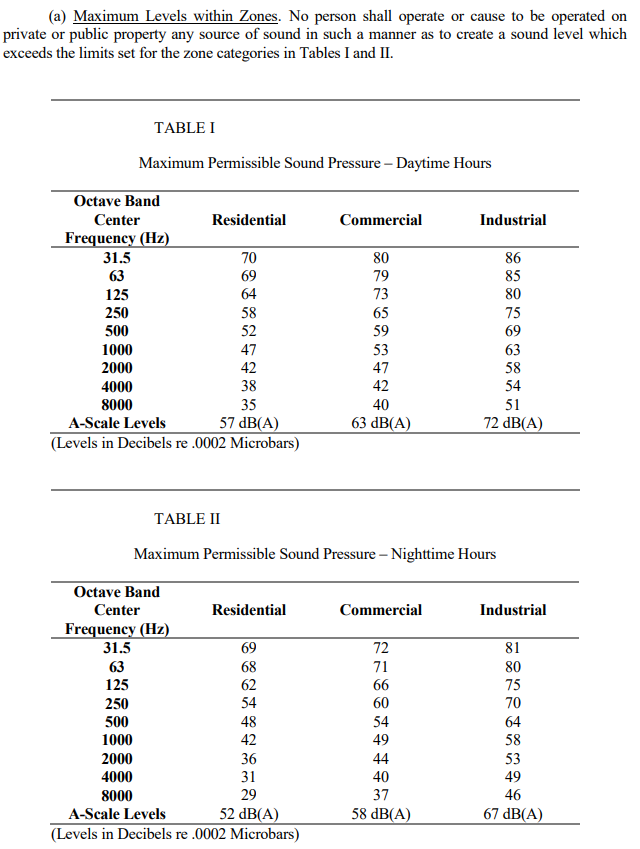 Additional Information, Links
ASTM E1014-12 Standard Guide for Measurement of Outdoor A-Weighted Sound Levels (paywall)
ASTM E1780-12 Standard Guide for Measuring Outdoor Sound Received from a Nearby Fixed Source (paywall)
Using Trees and Shrubs to Reduce Noise
Noise Barrier Design – Visual Quality
Assessment Methodology
We don't utilize $50 meters for our studies. Instead, we'll use $7,000 Type 1 sound level meters. We won't simple measure a few numbers for comparison to the ordinance. Rather, we'll measure for hours, collecting thousands of measurements that are summarized using common statistics to define the actual noise of the offending process. In all cases, measurements are conducted under ASTM standards for the measurement of outdoor A-weighted sound levels.
Insight IH Consulting is experienced in quantifying community noise and comparing the results to applicable township, city, county, and state ordinances.
Contact us for assistance with community noise ordinances today!